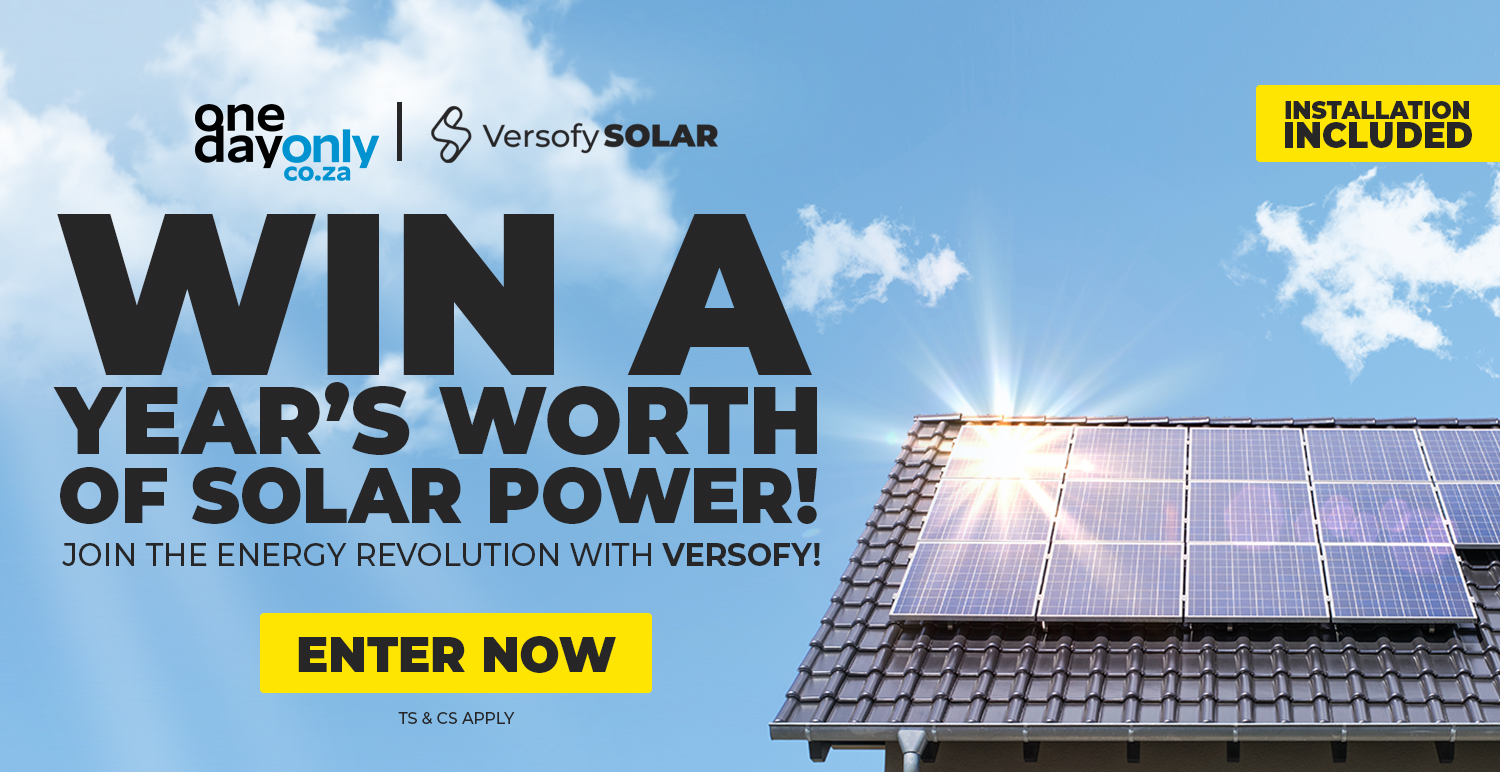 Terms & Conditions
1.
Promoter:
The promoter of this competition is
OneDayOnly.co.za
(referred to as "OneDayOnly" or "ODO").

2. Final Decision: The judge's decision is considered final and binding. No correspondence or negotiations will be entered into.

3. Acceptance of Rules: All participants are required to abide by the competition rules.

4. Competition Period: The competition will be active from 1 November 2023 and will conclude at midnight on 1 December 2023. Entries submitted after this period will not be considered.

5. Prize Details:
- Versofy Solar Grow package on SAAS for a year (R1999 per month value) https://versofy.com/pricing/
- Installation Included
Additional Terms & Conditions from Versofy Solar
1. The client is required to undergo a pre-qualification process, involving a credit check conducted by Versofy. If approved, Versofy may request the submission of confidential information, such as payslips, bank statements, and utility bills.
2. The pre-qualification process is applicable exclusively to the Solar Ready Grow or Grow package.
3. The contractual term spans 12 months, commencing from the date of installation completion. It's important to note that the client may be subject to a de-installation charge under certain circumstances.
4. Following the initial 12-month period, the client has the option to continue the arrangement on a rental basis for a 3-year term.
5. The client is obligated to sign an agreement for the first year of service with Versofy, which will include the necessary Terms and Conditions.
6. Clients have the opportunity to upgrade their package to a larger size, with costs to be determined subsequent to a site visit. Versofy will provide cost proposals if the client opts for an upgrade. After the initial 12-month period, the pricing will revert to the standard rates if the client chooses to retain the product.
6.
Entry Mechanism:
To qualify for a chance to win, entrants must complete the provided entry form and subscribe to receive newsletters and communication from both
OneDayOnly.co.za
and Versofy Solar. By subscribing, participants agree to have their data shared with Versofy Solar for marketing communication purposes.

7. Entry Limit: Each participant is allowed a maximum of one entry.
8. Prize Draw:
The winner will be chosen through a random selection process by 2 December 2023.
OneDayOnly.co.za
will make contact with the winner via telephone and the provided email address. Winners will need to provide valid identification before receiving the prize. Failure to respond within 3 days will lead to a replacement winner being selected.
9. Winner Announcement:
There will be a single winner. The winner's name will be disclosed on selected
OneDayOnly.co.za
social media platforms and communicated via email.
10. Eligibility:
The competition is open to South African residents aged 18 years or older. Directors, employees, and agents (including advertising agencies) of
OneDayOnly.co.za
, along with their immediate families, are not eligible to participate. Individuals who have not previously subscribed to
OneDayOnly.co.za
are eligible.
11. Winner Publicity:
Winners consent to
OneDayOnly.co.za
publishing their name and photographic images on various marketing platforms, including the website, newsletter, and social media accounts. Winners might be invited to partake in marketing activities for publicity purposes; however, participation is optional.
12. Competition Disclaimer:
OneDayOnly.co.za
, its affiliated companies, agents, and contractors assume no liability for any direct or indirect loss, damage, personal injury, defamation, invasion of privacy, or claims related to publicity rights arising from this competition and/or promotional offer.
13. Cancellation:
OneDayOnly.co.za
reserves the right to cancel or suspend any competition or promotion at its sole discretion. In the event of such cancellation or suspension, participants or entrants acknowledge that they have no recourse against
OneDayOnly.co.za
, its employees, agents, partners, suppliers, sponsors, or promoters.
14. System Failures:
OneDayOnly.co.za
assumes no responsibility for lost, delayed, or misdirected entries due to internet or computer malfunctions. Any external factors beyond the control of OneDayOnly that disrupt or corrupt the competition will not be held against the promoter.

15. Violation of Terms: Any violation or attempt to violate the outlined terms and conditions will lead to immediate disqualification of the participant or entrant.