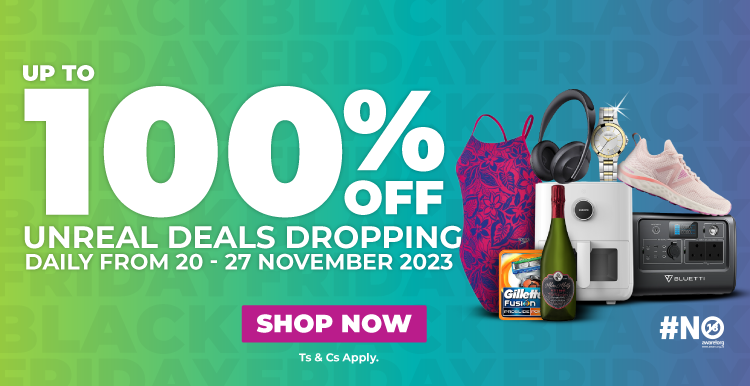 Black Friday 2023 | Unreal Deals (Up to 100% Off) Terms And Conditions
1. The OneDayOnly Unreal Deals promotional period shall be in effect from the 20th to the 26th of November 2023, as well as on the 27th of November 2023 and 1 December 2023.
2. Unreal Deals are subject to a limit of one item per deal per customer.
2.1 On Black Friday 2.0 (1 December 2023) Unreal Deals will be limited to one deal per customer (1 per household) for the day.
3. The availability of Unreal Deals is contingent upon stock availability, and such deals will remain visible until all stock is depleted.
4. It is essential to note that adding items to the shopping cart merely serves as temporary storage and does not guarantee the securement of the deal. The finalisation of the transaction, through checkout and payment, is the only process that ensures the deal's confirmation.
5. Standard shipping rates are applicable to all transactions.
6. Per order, only a single OneDayOnly voucher may be utilized.
7. In the event of a return, no refunds will be provided for vouchers that were used when purchasing an item. A return for any reason (faulty, changed mind etc) will result in a refund of money paid (as calculated in our standard Returns T's and C's) and not the value of the item being returned.
8. OneDayOnly retains the exclusive right, at its own discretion, to cancel orders in full or in part as circumstances necessitate. In such a scenario, OneDayOnly's liability shall be restricted to refunding the monies already paid by the user.
9. OneDayOnly may request personal information and seek documentation for the delivery of televisions.
10. OneDayOnly bears no responsibility for any payment failures stemming from technical faults, technical malfunctions, computer hardware or software failures, satellite, network, or server failures of any nature.
11. All the terms and conditions of OneDayOnly are subject to the standard OneDayOnly terms and conditions.
13. Unreal Deals are governed by OneDayOnly's standard Returns Policy.
14. In the event of customer misuse of the promotion, OneDayOnly retains the authority to suspend a customer's access to the OneDayOnly App or the customer's OneDayOnly account/profile.
15. Unreal Deals cannot be combined into a single order if purchased at different times throughout the day.